Polish Narrow-Gauge Railways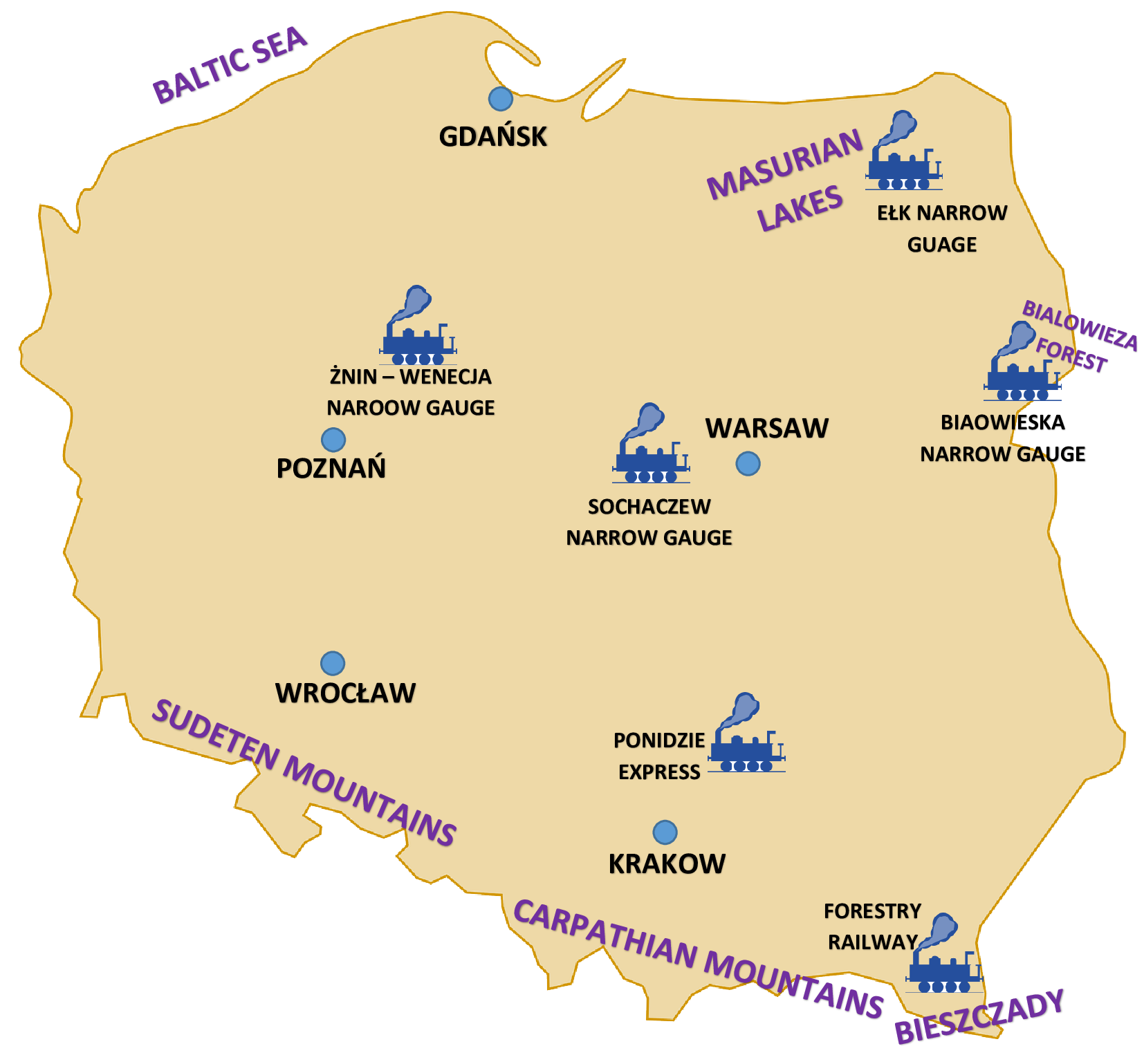 There are hundreds of kilometres of narrow-gauge railway lines in Poland. 750mm is the most commonly used narrow gauge, however, some regions, such as Pomerania and Upper Silesia used their own gauge. Some narrow-gauge lines still operate as common carriers, while others survive as tourist attractions.
Services only run from April to the end of September. During this period trains are usually running on weekends, or once, twice a week. Special tourist trains with many attractions can be run to order.
Below you will find some of the most interesting ones.
Ełk Narrow Gauge Railway in Masurian Lake District
The first section of this system opened in 1913 from Ełk.
The system has a total of 48km of line. A wider variety of locomotives was brought in, including Px48 and Kp4 steam locomotives, and some old four-wheel coaches were loaned by the railway museum.
Route: Ełk – Sypitki – Jez. Nieciecz – Ełk (42 km)
Rolling stock: vintage cars, steam and diesel engine.
Białowieska Narrow-Gauge
Białowieża National Park is the oldest primeval forest in Europe. The narrow-gauge train is a popular tourist attraction from which you can marvel at the abundance of plants and animals. The narrow-gauge forest railways (600 mm) were originally built for transporting wood from Białowieża Forest to the timber-processing factory in Hajnówka. Since 1991 these little trains have come back into service.
Routes: Hajnówka-Topiło (11 km, the most interesting) and Hajnówka – Postołowo (6 km) sections for tourists.
Rolling stock: diesel rolling stock
Ponidzie Express Narrow-Gauge Railway in Jura  Krakowsko-Częstochowska
In 1915 the Austrian army built a 600mm gauge supply railway from Jędrzejów. One of the locomotives from the Pińczów Railway (Tx26–422) was the first narrow gauge steam locomotive built in Poland.
Tourist trains started running on the Jędrzejów – Pińczów section (31 km).
Rolling stock: train with sound system, vintage carriages, steam train, diesel locomotive, Px48 and Px49 locomotives and new rolling stock.
Sochaczew Narrow-Gauge Railway in Mazovia Region
One of the most attractive ways to travel through the Kampinos National Park is by an old narrow-gauge railway (1921) which joins Sochaczew with Wilcz Tułowski (17 km). Visit to the Narrow gauge Railway Museum in Sochaczew. There is a range of locomotives and rolling stock displayed, from a variety of sites, including some 785mm gauge examples from Upper Silesia.
Rolling stock: vintage carriages and steam engine and a diesel locomotive.
Forestry Railway in Bieszczady Region
The 760 mm gauge line, 25 km long from Nowy Łupków to Majdan near Cisna opened in 1898.
It takes you slowly (10 km/hour) through parts of the mountains which would be inaccessible by car. You can touch the hazel-tree twigs with your hand and admire tens of small brooks.
On request very attractive rides in hand powered trolleys can be arranged.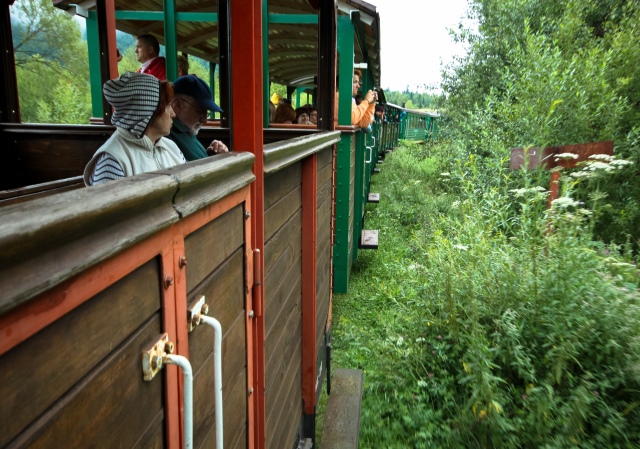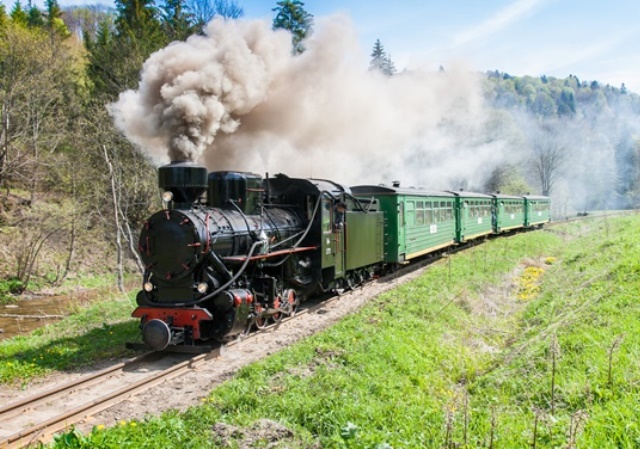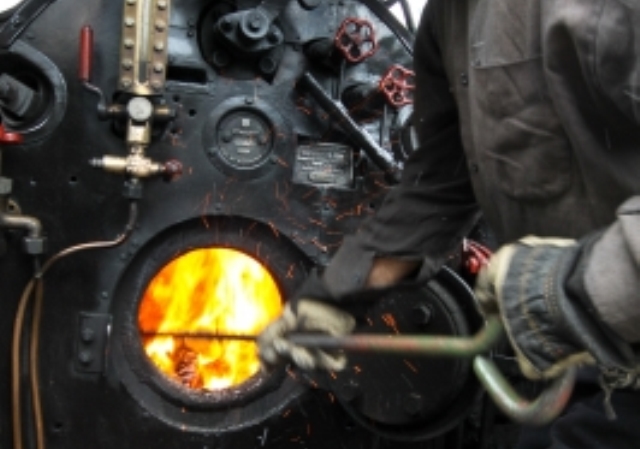 Żnin Narrow Gauge Railway
The first section of the 600mm gauge in Żnin opened in 1894. Now the tourists can travel approx. 12km from Żnin to Biskupin via Wenecja. An open-air Narrow Gauge Railway Museum in Wenecja has been arranged as a railway junction and features collection of steam locomotives standing on the tracks, wagons and a variety of railway equipment.
Biskupin is famous for the reconstruction of Lusatian culture settlement and the Archaeological Museum.