GRAND TOUR OF POLAND
8 days / 7 nights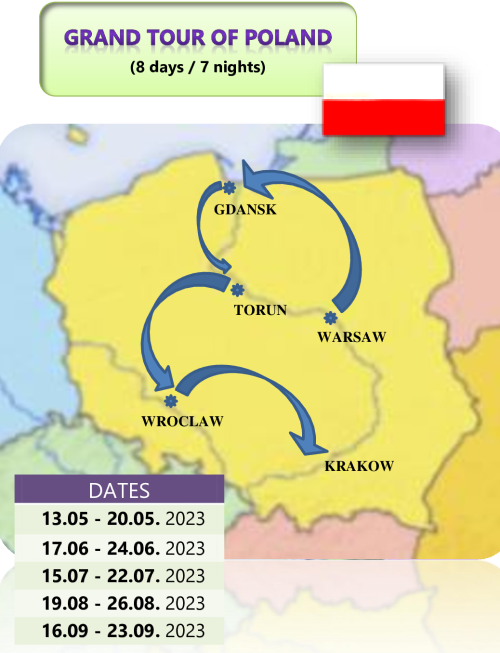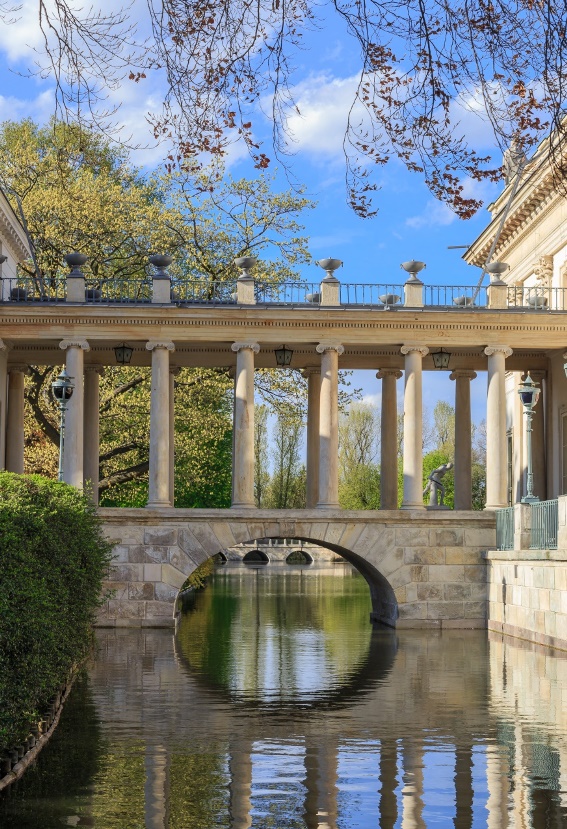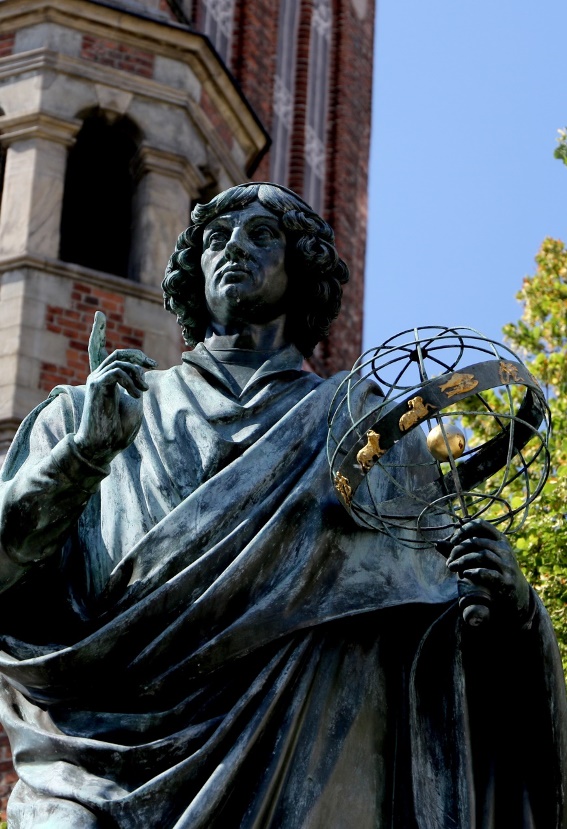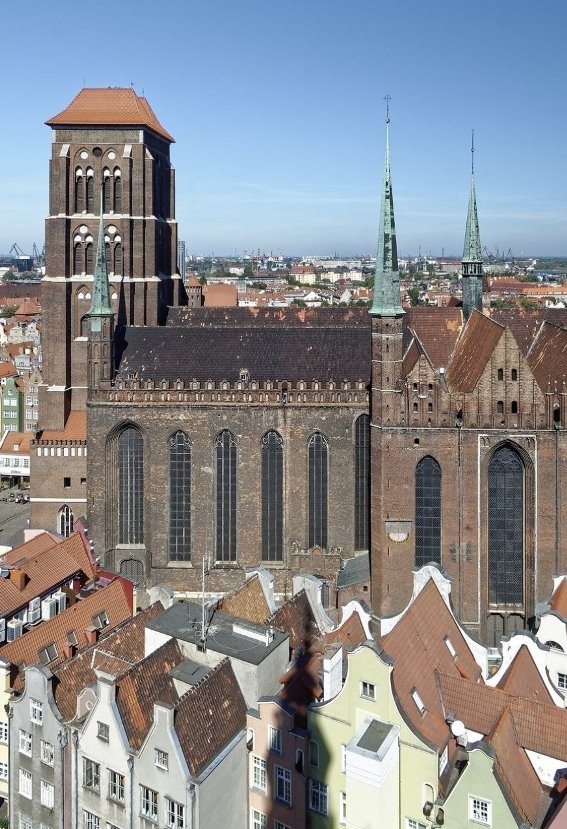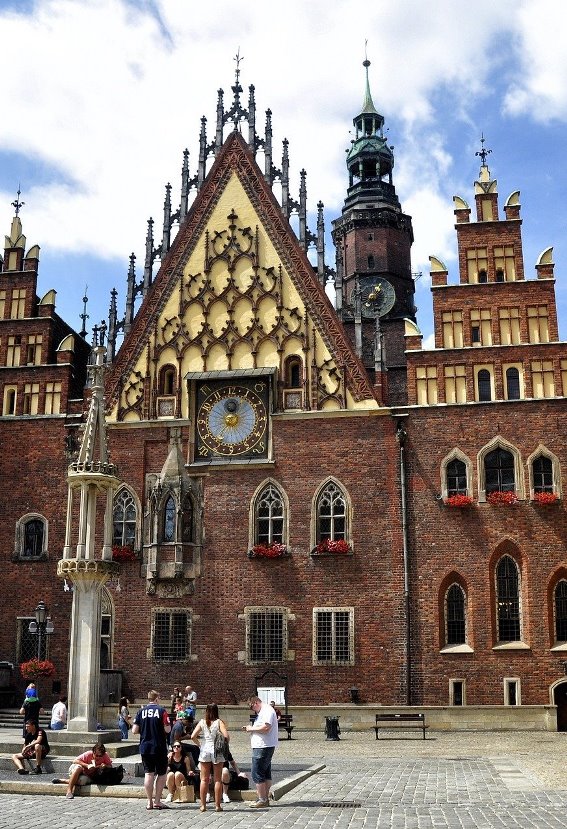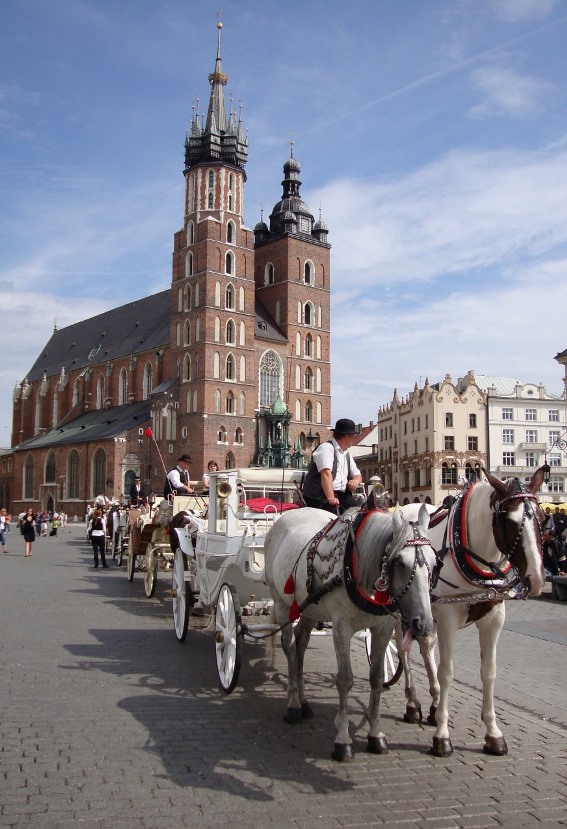 DAY 1 – SATURDAY / Warsaw
Arrival in Warsaw
Time at leisure
20:00 Welcome dinner
Overnight at the hotel in Warsaw
DAY 2 – SUNDAY / Warsaw  – Gdańsk
Breakfast at the hotel
Half day tour of Warsaw, including the Royal Route with all its famous statues, buildings and churches, the Royal Lazienki Park with F. Chopin's monument and the Old Town area with the Royal Castle Square, St John's Cathedral, the Old Town Market Square
In the afternoon – drive to Gdansk
Overnight at the hotel in Gdansk
DAY 3 – MONDAY / Gdańsk
Breakfast at the hotel
Half day tour of Gdansk. Sightseeing of Old Town in Gdansk: Dluga Street, Neptun Fountain, Artus Court. Drive to Oliwa to visit the Oliwa Cathedral famous from Rococo pipe-organ.
Free time in the afternoon
Overnight at the hotel in Gdansk
DAY 4 – TUESDAY / Gdańsk – Malbork – Toruń
Breakfast at the hotel
Departure for Torun with en route visit of imposing Teutonic Knights' Castle in Malbork
Afternoon sightseeing of Torun – guided tour of the Old Town, unique example of Gothic architecture: churches, burgher's houses, defensive walls. Statue of Nicolaus Copernicus and Town Hall in Old Town Market Square
Overnight at the hotel in Torun
DAY 5 – WENDESDAY / Torun – Wrocław
Breakfast at the hotel
Drive to Wroclaw
In the afternoon sightseeing of  Wroclaw – guided tour of Old Town with the tenement houses and Town Hall on the Market Square, visit to Ostrow Tumski – the oldest part of the city.
Overnight at the hotel in Wroclaw
DAY 6 – THURSDAY / Wrocław – Częstochowa – Krakow
Breakfast at the hotel
Departure for Krakow via Czestochowa
En route visit to Jasna Gora Monastery in Czestochowa with the Black Madonna and Auschwitz – Birkenau Nazi Concentration Camp
Drive to Krakow
Overnight at the hotel in Krakow
DAY 7 – FRIDAY / Krakow
Breakfast at the hotel
Half day tour of Krakow including the Old Town area with the Barbican, Florianska Gate and Collegium Maius courtyard (Jagiellonian University), Old Town Market Square with the Cloth Hall (Sukiennice) and entrance to St Mary's Church
Free time in the afternoon
Overnight at the hotel in Krakow
DAY 8 – SATURDAY / Krakow
Time for leasure of and optional visit to the Salt Mine
Wieliczka Salt Mine is a unique world-class attraction, included in the UNESCO "Human Heritage" List. According to a legend, salt resources were brought here from Hungary by Blessed Kinga, who married a Polish king. She dropped a ring to a Hungarian salt mine shaft to say "farewell" to her homeland. Salt recourses were soon discovered in Wieliczka. When excavation started – Kinga's ring was found in a first salt lump. A tour of the Mine includes beautiful chapels sculpted in salt (Blessed Kinga's chapel is the most beautiful one), spacious chambers, crystal grottoes and underground ponds. All this at average depth of 250 m below the ground level.
Transfers and extra nights
TRANSFER in Warsaw (Warsaw Chopin Airport, WAW) and Krakow (Airport Balice, KRK): airport – hotel or hotel – airport: 46 EUR per 1-2 pax, one way.
Note: Transfers from other airports to be quoted on request.
Price for PRE EXTRA NIGHT in Warsaw (Friday) p/room, p/night, b/b
Hotel Novotel Centrum 4* in Warsaw
Sgl 115 EUR / Dbl 130 EUR
Price for POST EXTRA NIGHT in KRAKOW (Saturday) p/room, p/night, b/b
Hotel Novotel Centrum 4* / INX 4* in Krakow
Sgl 145 EUR / Dbl 155 EUR