Treasures of The Baltic
Warsaw (1) – Gdańsk (1) – Olsztyn (1) – Vilnius (2) – Riga (1) – Tallinn (2)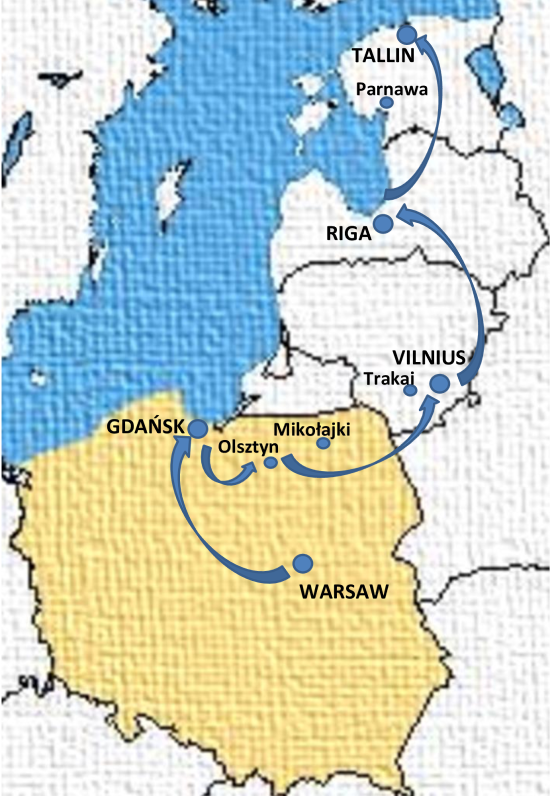 DAY 1 – arrival in Warsaw. Panoramic city tour including Royal Route with the Old Town and Łazienki Park and Palace. Dinner and overnight in Warsaw.
DAY 2 – departure for Gdańsk. Half day tour of Gdańsk and Sopot. Walk through the Old Town with Długi Targ,  Artus Court, St Mary's Church and the  Old Crane. Overnight in Gdańsk.
DAY 3 – departure for Mazury Lake District. Visits to: Święta Lipka Monastery, Hitler's Underground Bunker–Wolf Liar, cruise on lakes. Overnight in Olsztyn.
DAY 4 – departure for Vilnius. En route stop in Mikołajki, a Masurian lakeside resort for lunch. Overnight in Vilnius.
DAY 5 – sightseeing of Vilnius with Gothic Gediminas Castle, St Ann Church, St Peter and Paul Church, Town Hall. Afternoon excursion to Trakai – medieval capital of Lithuania called "the town on the water".  Overnight in Vilnius.
DAY 6 – departure for Riga. En route stop at the Hill of Crosses, the most incredible, awe-inspiring sight in Lithuania. Arrival in Riga. Walk through the Old Town. Overnight in Riga.
DAY 7 – sightseeing tour of Riga including Dome Cathedral, St Peter's Church with beautiful panoramic view from the tower. Visit to an open-air ethnographic museum. Departure for Tallinn. En route stop in Parnawa, a beautiful spa at the seaside. Overnight in Tallinn.
DAY 8 – sightseeing of Tallinn with Cathedral, Town Hall and "Long Herman" and "Fat Margaret" towers within well preserved city walls. Overnight in Tallinn.
DAY 9 – departure.