Culinary tour in Poland & Lithuania in 12 days
Delicious regional dishes that make you visit Poland & Lithuania
Day 1 – Krakow
Arrival to Krakow. 3-hour walking tour of Krakow including visit in Obwarzanek Museum. The Old Town: the Royal Route, the Old Town Market Square, the Cloth Hall, St Mary's Church with famous 15th century wooden Witt Stwosz altar inside and Florianska Gate, resembling an open-air art gallery with numerous paintings and water-colours displayed for sale by local artists.
Our culinary journey through Cracow will surely start with Obwarzanek. A chewy inside with crispy crust, dough ring sprinkled with salt, poppy or sesame seeds, obwarzanki are sold from blue rolling carts on every other street corner in Kraków. So many people hang around munching the rings that have become an unofficial symbol of the city. If you want to learn more about them, visit interactive, educational Obwarzanek Museum, where you can even make your own one!
Dinner at Wierzynek restaurant – a very unique venue on the map of Poland, where 650-year-old tradition of feasting and modern approach to the culinary arts meet!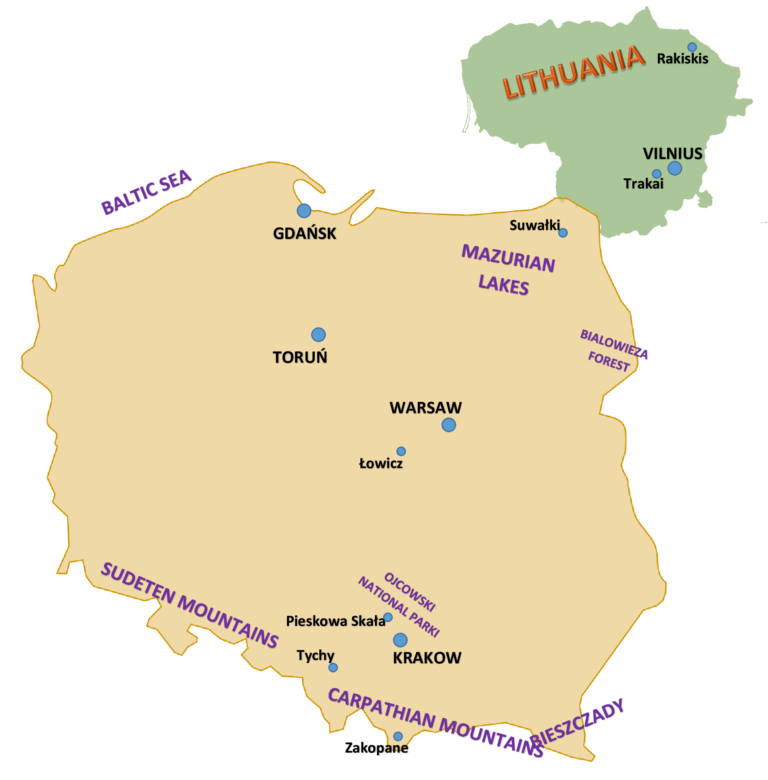 Day 2 – Cracow & surroundings
Visit in Goja wineyard (16 km from Cracow) – beautifully located in the Pradnik river volley at the edge of Ojcowski National Park. Wines from southern Poland are becoming increasingly popular among connoisseurs and layman alike, often becoming destinations for both wine affectionados and enotourism fans. Solely in the region of Lesser Poland – which includes the city of Kraków – there are over a hundred vineyards that produce tens of thousands of wine bottles a year. You will have a chance to see how grapes are grown, wine is produced and how it tastes!
Visit and lunch at traditional trout farming in Ojcowski National Park. High quality, fresh, eco-grown trout grilled or smoked in natural wood without preservatives or any artificial additives.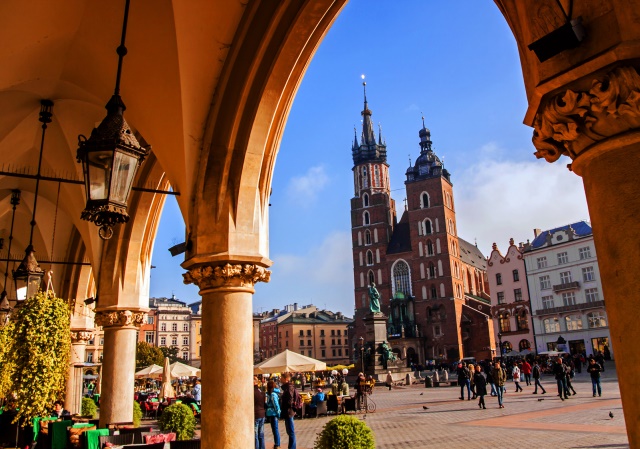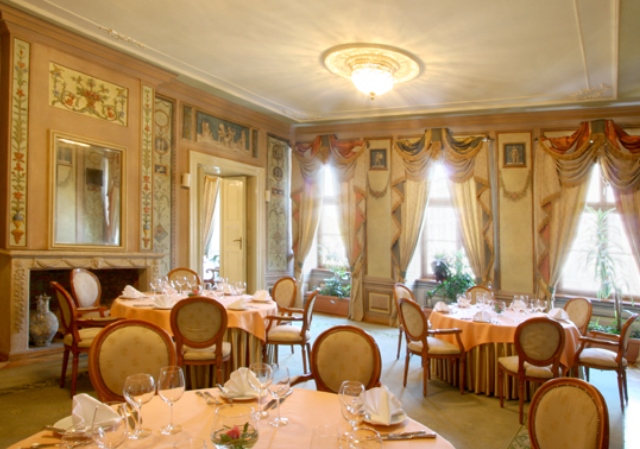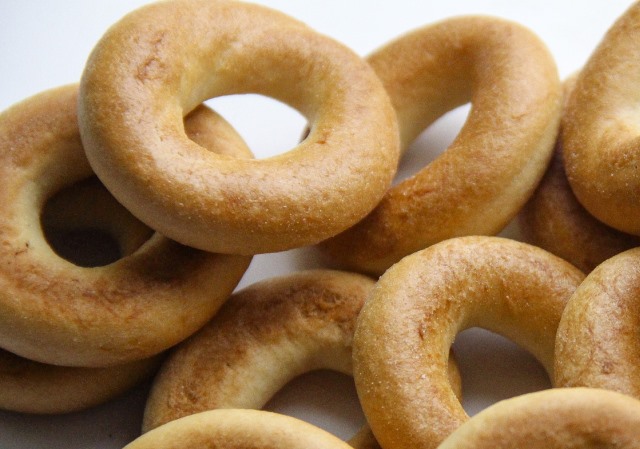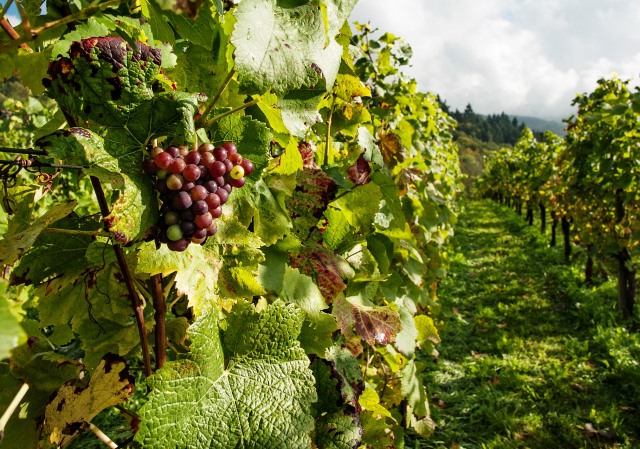 After lunch drive through a charming Prądnik River Valley, forming Ojców National Park among limestone hills and rocks of incredible shapes (e.g. Hercules Club) and caves. Visit at Renaissance Castle in Pieskowa Skała, the most beautiful knights' castle in Poland. Eagles' Nests Track – a group of the 14th century strongholds.
In the afternoon Culinary workshops for gourmets or how to make dumplings in Pod Aniolami Restaurant which has been frequently awarded for delicious dumplings. Dumplings prepared in Poland have been among the best specialties of Polish cuisine for centuries. They were known as early as in the 13th century. Forest fruits and mushrooms were picked in forests and used to fill the dumplings. For their taste and simplicity they soon gained recognition in bourgeois house, convents and inns. Later they were introduced in noblemen's manor houses where their variety and taste were valued. Cooks had more and more fantasy and filled dumplings not only with fruit, but also vegetables, mushrooms, meat and fish in various compositions. For the tasting the restaurant serves a cup of Old Polish beetroot soup or sour soup popular since the 16th century.
Dinner at Kazimierz – Jewish district of Cracow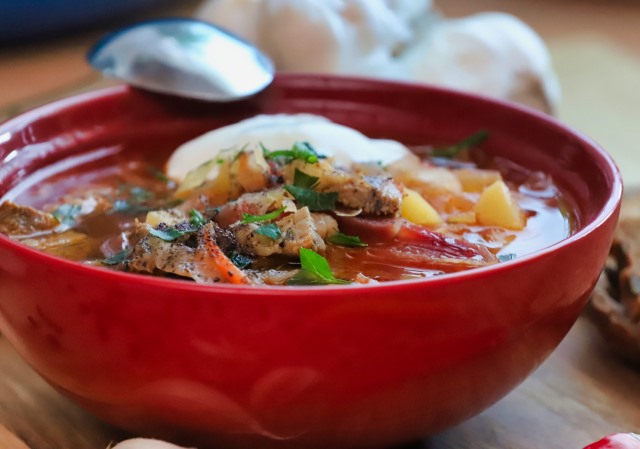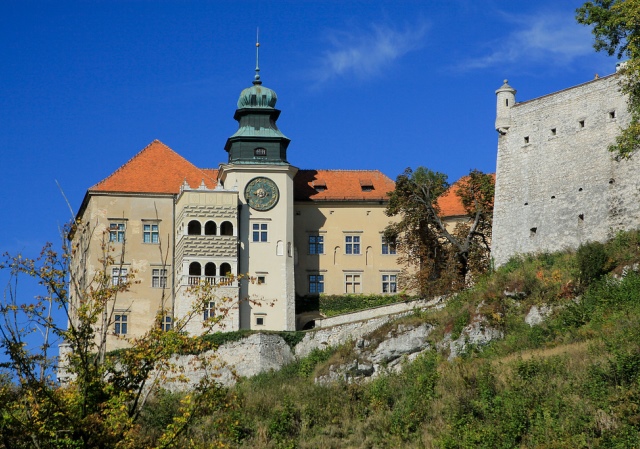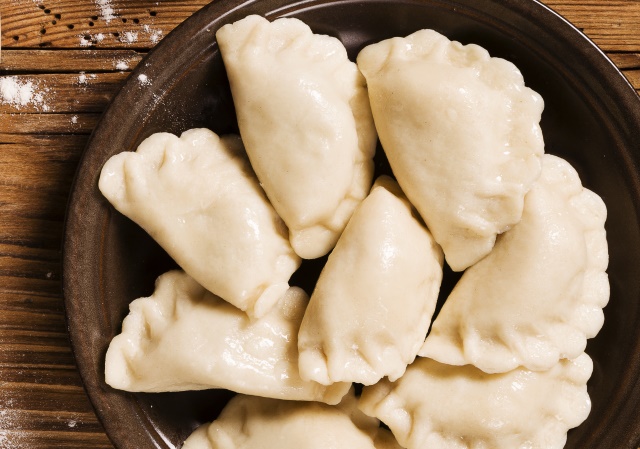 Day 3 – Zakopane – full day tour
Two-hour drive from Krakow takes you to a completely different world. The further to the south the more hilly the landscape becomes until you get to Zakopane, located 1000 m above sea level and surrounded by Tatra Mountains (Rysy Mountain – 2.500m above sea level). Funicular to Gubałówka hill gives a beautiful view over Polish and Slovak Tatras. A walk along crowded Krupówki Street-main pedestrian precinct of town, is nice opportunity for shopping. Friendly street vendors offer local goods /lamb-wool sweaters, walking sticks, wooden figures/. Many local restaurants, decorated in rustic style, offer wide choice of Polish and regional specialties. During the tour you will see the examples of Zakopane style of architecture. The style was inspired by folk art, highland designs with very elaborate finishes and abundant decorations in timber. The oldest and the most renowned examples of this style in architecture are: Villa Koliba – the first house built in Zakopane style, Jaszczurówka Chapel.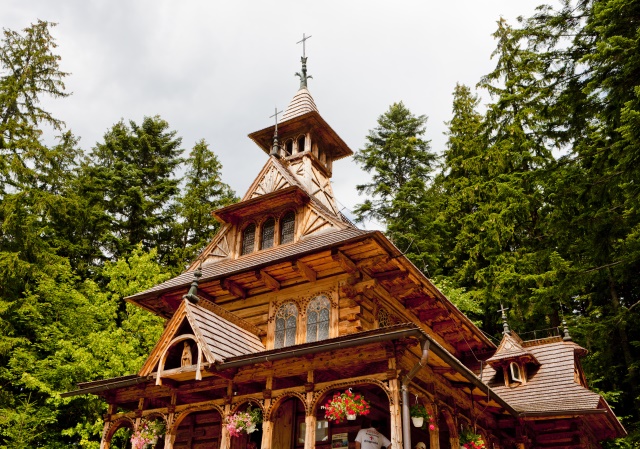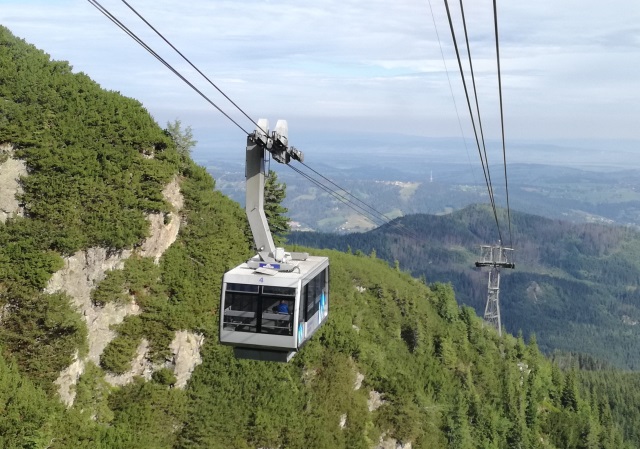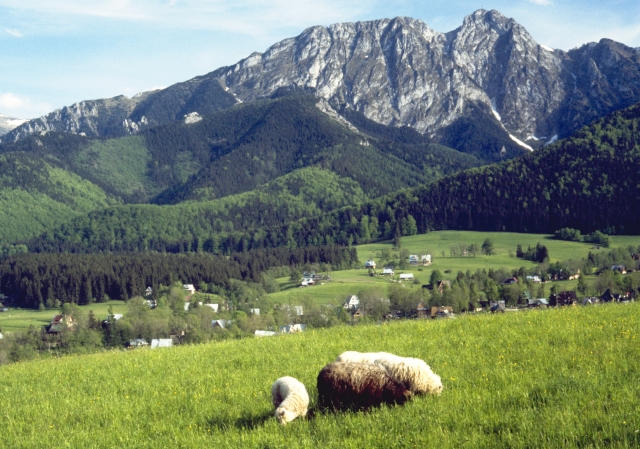 Being in Zakopane you cannot miss Oscypek – a smoked cheese made of salted sheep milk exclusively in the Tatra Mountains region of Poland. Oscypek is made using salted sheep's milk, with the addition of cow's milk strictly regulated by the protected recipe. Unpasteurized salted milk is first turned into cottage cheese than the mass is pressed into wooden, spindle-shaped forms. Finally they are placed close to the roof in a special wooden hut and cured in hot smoke for up to 14 days. This product which now bears the official EU regional speciality certificate.
A must-have while visiting Tatra region is the regional soup called "kwaśnica", a customary start to the main meal on cold winter days. It is made with juice from soured cabbage, and it differs from sour cabbage soup – kapuśniak – often served across the country. The latter is always served with bits of cabbage floating in it, while the classic kwaśnica is always clear. The main course can consist of baked lamb, or mutton goulash served from the pot is also an option, served with the most popular vegetable – cabbage simmered with cumin seeds.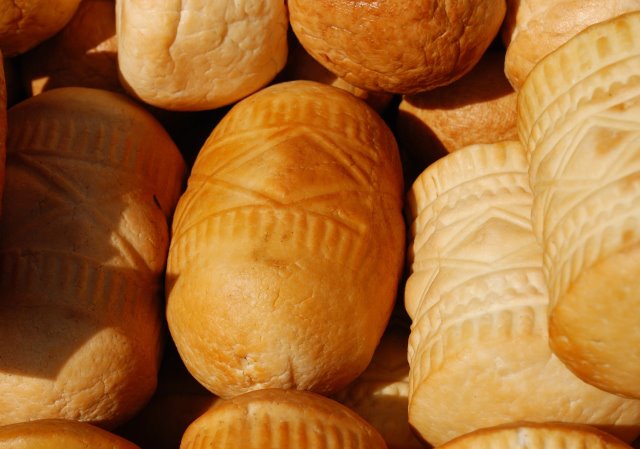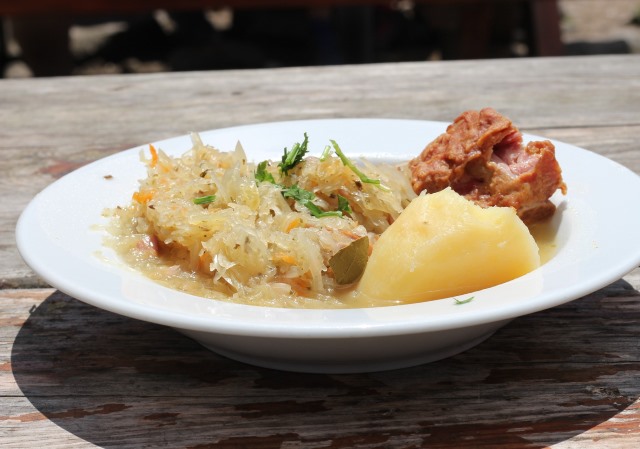 Day 4 – Tychy & Łowicz & Warsaw
Visit in Tychy brewery, where 'Tyskie' beer has been brewing continuously for four centuries now. You will visit a Museum of Brewery! In its beautiful, historic interiors, a display full of enthralling stories of Tychy Brewery awaits you. The brewery is considered not only an architectural jewel, but also a modern production plant. See for yourself how 'Tychy Gold' is brewed– from the brewing stage to bottling. The highlight of the tour is a tasting of freshly brewed 14-days Tyskie Gronie in a historical pub. Książęca school tasting is a workshop, during which the cervesario, a beer expert, presents the art of beer tasting. One of the elements of this art is the technique of tasting, which allows you to discover the depth of taste and diversity of aromas.
Drive to Łowicz where you will have a chance to eat dinner in the ruins of the only Polish private castle in Mazovian voivodship. The dishes will be composed in such manner that they reflect the complexity of Polish culture and history showing the influences of other traditions. The real culinary story-telling. You will be welcome with a large bread and salt and later given a chance to taste Polish wide variety of Polish sausages – smoked, "rural" with garlic, kaszanka – a traditional blood sausage.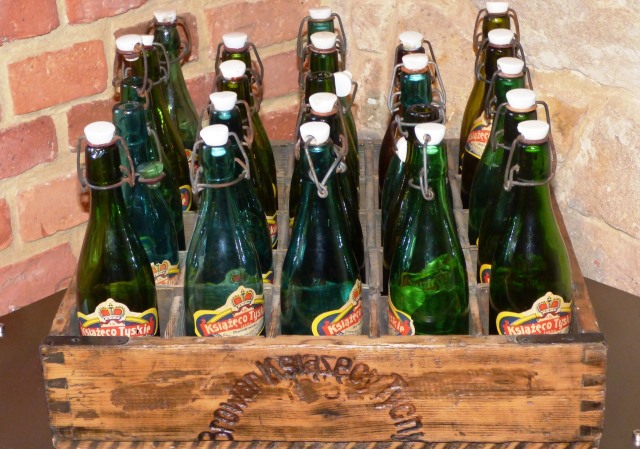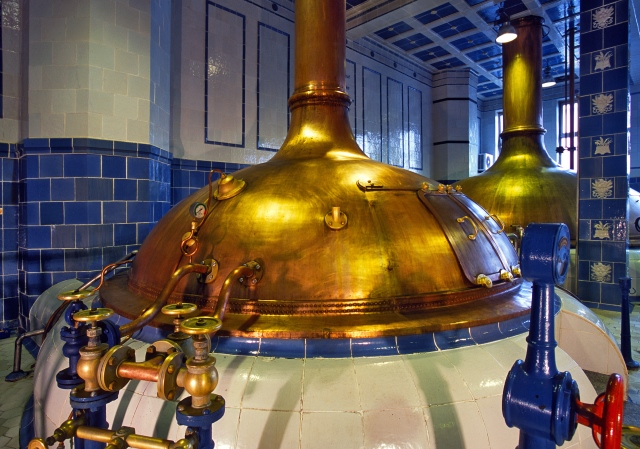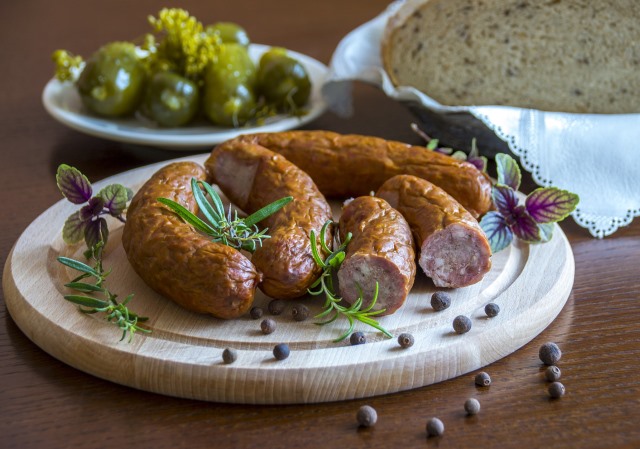 Day 5 – Warsaw
3-hour tour of Warsaw with the Royal Castle. The Old Town : the Royal Castle and the Royal Castle Square with King Sigismund III Vasa Column, St John's Cathedral, the Old Town Market Square and the Barbican. Drive along the Royal Route: Krakowskie Przedmiescie, Nowy Swiat and Aleje Ujazdowskie, with numerous churches (Holy Cross Church with Chopin's heart kept in the pillar), monuments, historic buildings and palaces, many of them housing embassies and ministries. Stop in front of the Parliament, walk through the Lazienki Park with famous Palace on the Water, one of the last 18th century court theatres in Europe in Old Orangery, famous Chopin's monument and Belvedere Palace. Lunch in Ale Gloria Restaurant.
Visit in a newly open Polish Vodka Museum. Polish vodka is a crucial element of Polish culture, which has been served on Polish tables during celebrations for centuries. The goal of the Polish Vodka Museum was to create a space where vodka's unique history can be presented. The museum uses appealing and modern means to familiarise the visitors with the process of vodka production and raw materials used for its production as well as its different flavours.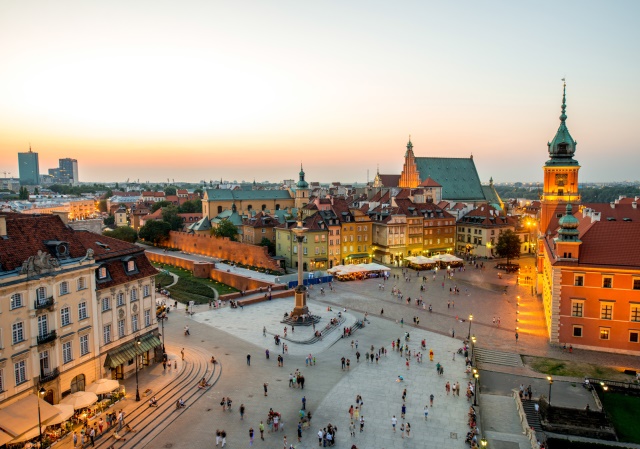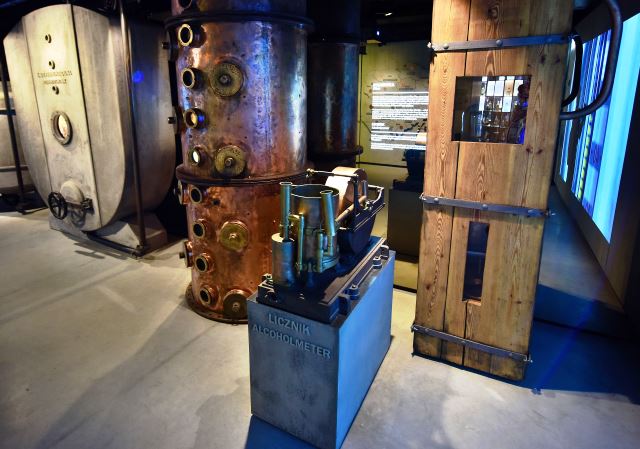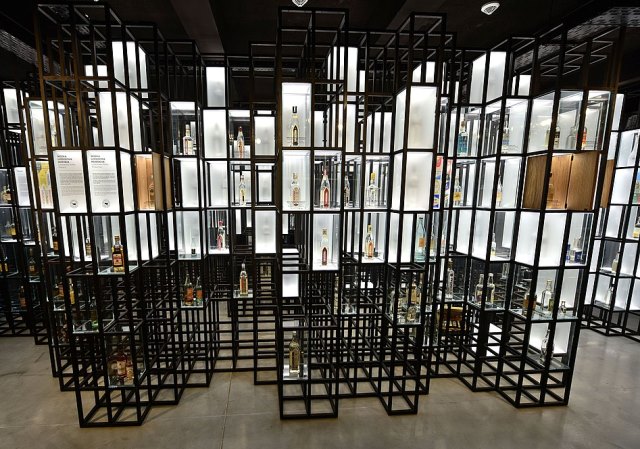 Traditional Polish dinner at local restaurant. Try bigos – traditional meat and cabbage stew being Polish national dish. Typical ingredients include sauerkraut , various cuts of meat and sausages, often whole or puréed tomatoes, mushrooms, dried or smoked plums and often red wine. Talking about sauerkraut, we should recall other pickles – first and foremost pickled cucumbers.
The Poles are soup lovers. We eat above 200 kinds of soups including different regional varieties. The one that is strongly associated with Polish cuisine is called żurek – a soup made of soured rye flour and meat (boiled pork sausage or pieces of smoked sausage, bacon or ham).
*Optionally dinner at one of the restaurant distinguished by Michelin – Atelier Amaro, Elixir or Senses.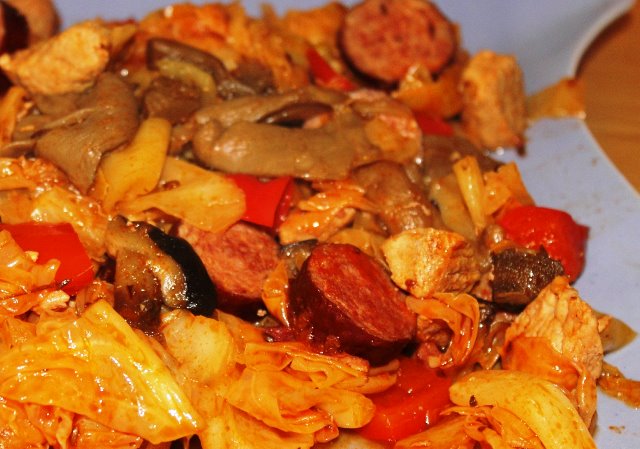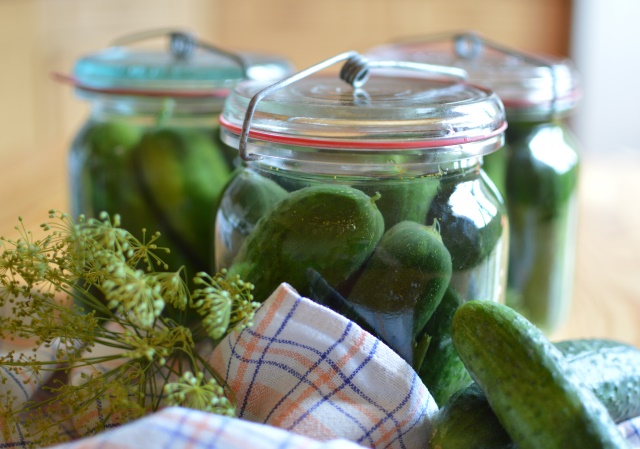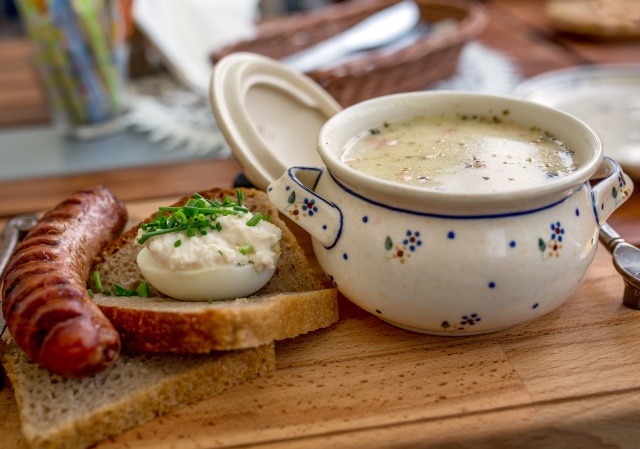 Day 6 – Toruń
Drive to Toruń with beautiful Old Town (UNESCO site). Entrance to the Living Museum of Gingerbread, the first so interactive museum in Europe. Apart from hearing about the tradition of baking gingerbreads in Torun, under the watchful eyes of m Gingerbread Master, you can prepare dough by yourself and then bake the specialties of Toruń in traditional wooden molds. Later you can decorate it with icing.
In the late afternoon you will get to tremendous Gdansk and the Baltic sea – the region famous for abundance of fresh fish.
Dinner in Pod Łososiem restaurant – an amazing, meticulously restored 18th century rococo anteroom, as well as dining rooms full of antiques, paintings and patiently amassed collections.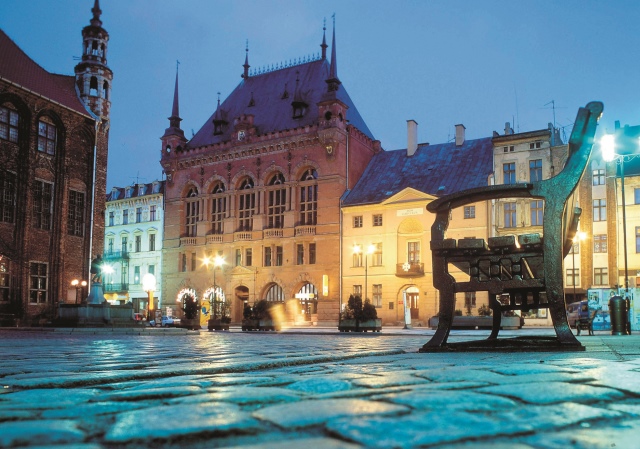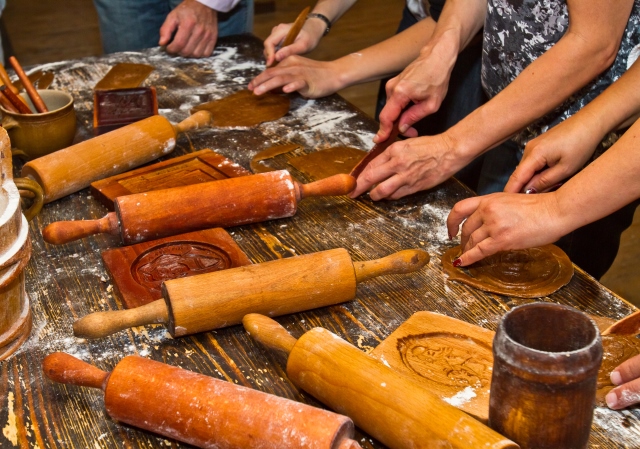 Day 7 – Gdańsk
City tour of Gdansk with organ concert in Oliva and Sopot (up to 6 hours).
Walk by Gothic Prison Tower and Renaissance Golden Gate to Długa Street with late Gothic and Renaissance Houses, Artus Hall Court and Neptune fountain, stroll down Mariacka Street where St. Mary's Church, silver and amber galleries are located. At the picturesque Motlawa River bank stop by the Old Crane. Drive to the Oliva Cathedral, Romanesque with later Gothic additions, founded in the 13th century as a Cistercian abbey. A concert played on the Rococo organ.
Then drive to Sopot – a picturesque pre-war summer resort with a beautiful promenade pier. Dinner at Meridian restaurant characterised with the great location at the end of the longest wooden prior in Europe.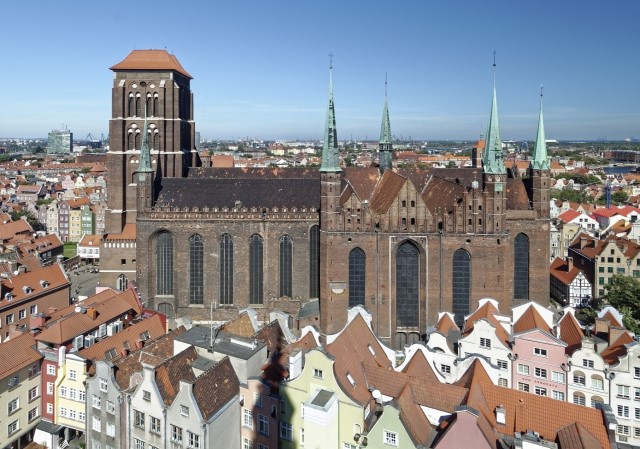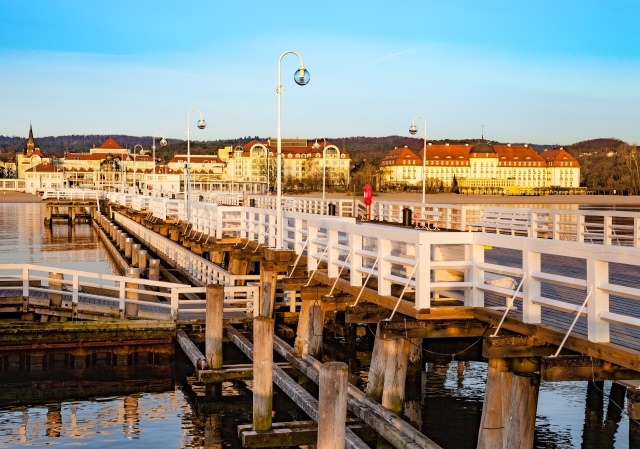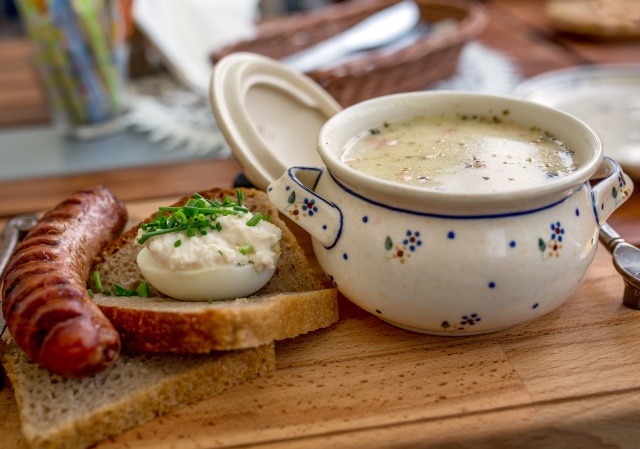 Day 8 – Suwałki & the Wigry Lake
In the morning, drive to Suwałki Lakes Area. You will have an opportunity to stay in one of the cleanest and untouched part of Poland located on the border to the Lithuania. Local dishes visibly reflect the influence of the neighbouring country.
At the local Pod Sieja restaurant, apart from the whole palette of fish dishes in variety of forms, you can taste delicious potato specialties, such as the potato babka and kiszka. The dishes can be made of identical ingredients and will differ only in the way they are served and how they look. Both are made with grated raw potatoes, mixed with either bacon or lard speck, and seasoned with cumin or marjoram. You can't miss kartacze – large, oval-shaped potato dumplings are traditionally filled with a combination of sautéed onions and ground meat, while some versions occasionally employ mushrooms, sauerkraut, or cheese. They are usually associated with the north-eastern regions and are believed to have been influenced by a similar Lithuanian dish that goes under the name cepelinai. Kartacze dumplings are usually served accompanied by sautéed onions and crispy bacon bits, and are typically enjoyed as a filling main course. Sękacz will than follow as a must. It is a cake, baked over a flame, a rotating spit is poured over with layers of batter. Once it is ready and cut into pieces, it resembles a cut down tree trunk with annual growth rings – sęki in Polish.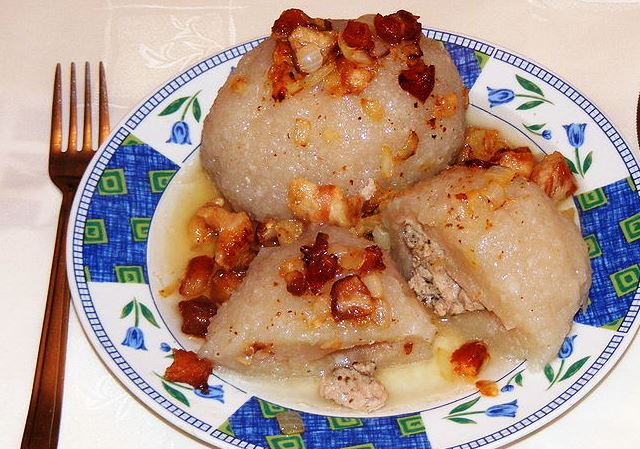 Day 9 – Lithuania
Drive to Vilnius. Lithuania's capital city is regarded as one of the best preserved baroque treasures in the Baltic. The variety of different styles is the result of centuries of architectural tendencies deployed, layer by layer, over the course of 1000 years.
In some basements of the city center is possible to appreciate the original layers of the city, dating back to the days of the Grand Duke Gediminas, founder of the city.
Traditional Lithuanian dinner.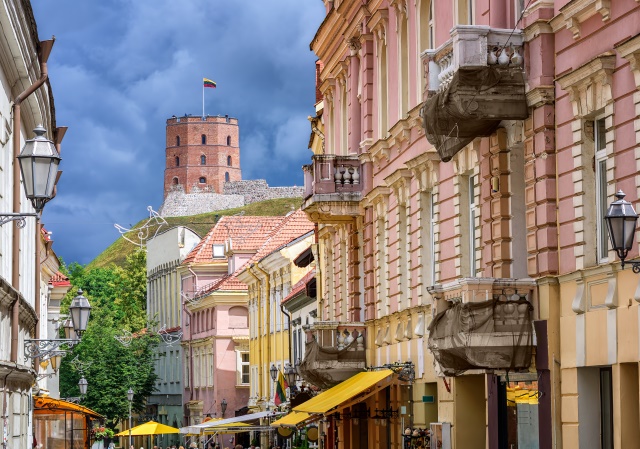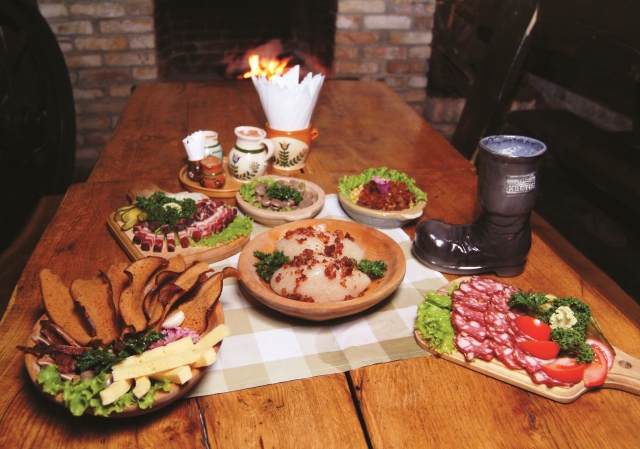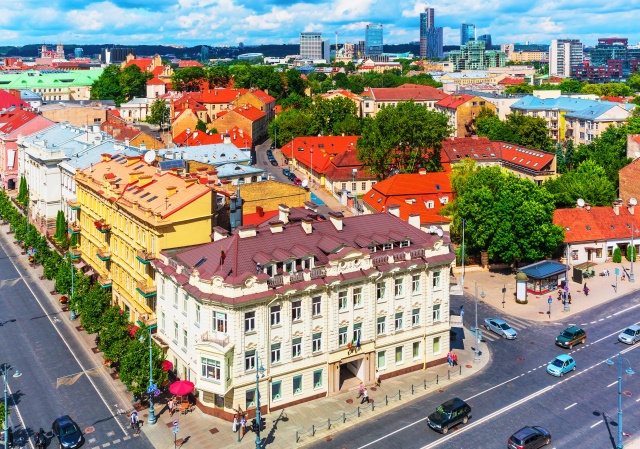 Day 10 – Trakai
Drive to Trakai. Trakai city served as the headquarters of the Lithuanian Grand Duke Vytautas Magnus during his reign (1392-1430). Today this small city is encircled with scenic lakes. Trakai castle is the only Gothic water castle in Europe that survived from the 14th century. Nowadays it has a history museum with exhibits from the 16-18 centuries.
Cooking and tasting traditional karaim dishes (kibins). The preferred snack for all occasions and the most traditional dish served in Trakai(*). Consist of a pastry, very similar to a pie in texture but shaped like a Zeppelin with a fancy "stitching" at the top. Most traditional kibinai are stuffed with lamb and onion, but in recent years more contemporary versions have been nurtured to include curd cheese with parsley, Ham and cheese, pulled chicken, mushrooms, or just melted cheese.
It is believed Karaims brought the tradition of kibinai when they settled in Trakai several hundred years ago. No trip to Trakai can go without a visit to one of the restaurants serving the delicious pastry. Not eating kibinai in your first time in Trakai is considered as an insult, so be forewarned in the afternoon boat trip on Galves lake. Return to Vilnius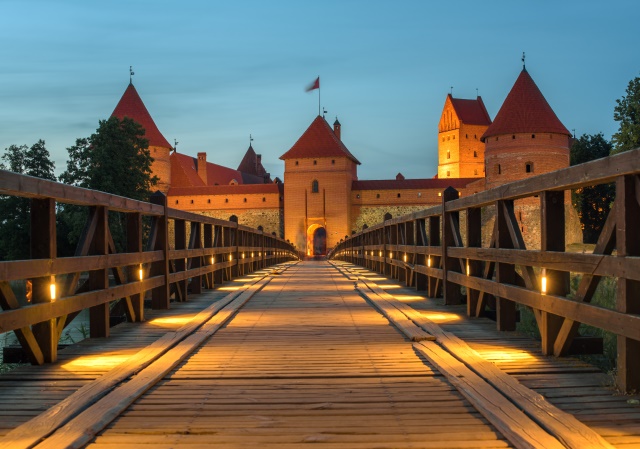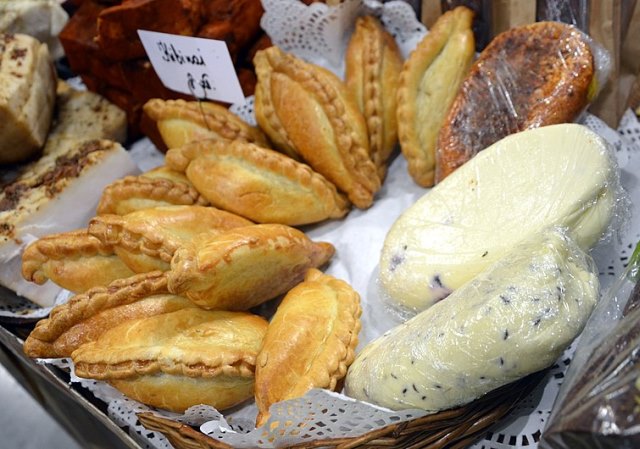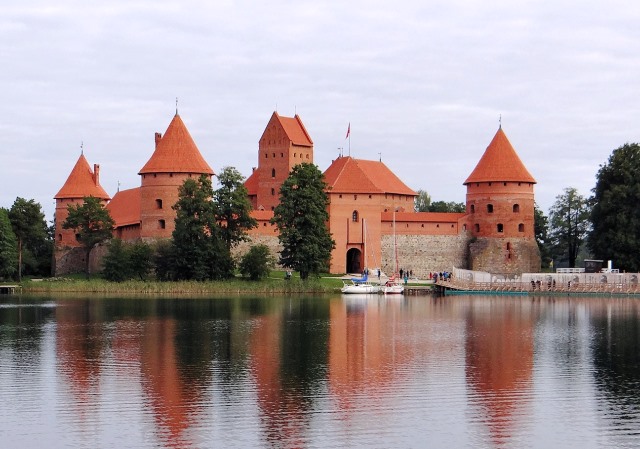 Day 11 – Full day trip to Rokiskis
Visit to Rokiskis museum and Cheese tasting.  After breakfast drive to the capital of cheese, Rokiskis. This is probably the one place in the world that really have challenged Italy and their Parmigiano Reggiano. In many international competitions, Dziugas cheese has come only second to its Italian counterpart. For a remote little town like Rokiskis, this is a hell of an achievement. We invite you to have a try and find out by yourself about the many way in which you can eat Lithuanian cheese.
Day 12 – Vilnius
Transfer to the airport after breakfast.